Letcho – a classic recipe from Hungary
pełna wersja przepisu z komentarzami dostępna pod adresem:
http://www.zajadam.pl/en/letcho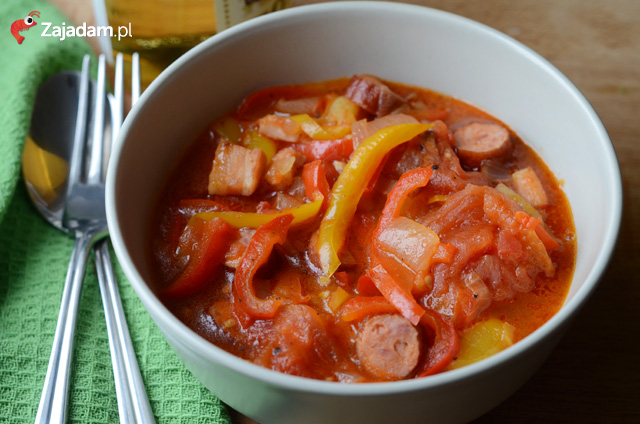 Letcho is one of my personal favourites. It's a filling one-pot dish containing a great variety of vegetables but with a strong flavour of meat too. Perfect food for men ;). There are many versions of this dish and today I'm going to show you how to prepare the most traditional one.
My favourite recipe for letcho with courgette is most popular on this blog, but preparing the real traditional letcho in Hungarian style has been on my mind for a while now. Here in Poland we often use ingredients which you won't find in the original Hungarian letcho.
Actually, adding to letcho courgettes, aubergines and even champignons makes this "Polish" letcho look as if it came from French cuisine instead of Hungarian ;-).
The Ingredients of classic letcho
The rule says that you should use, more or less, the same amount of bell peppers, tomatoes and onions. You should also add as much meat as you see fit (e.g. bacon and sausages). Letcho can be prepared equally well in a vegetarian version which allows you to use it as a side dish.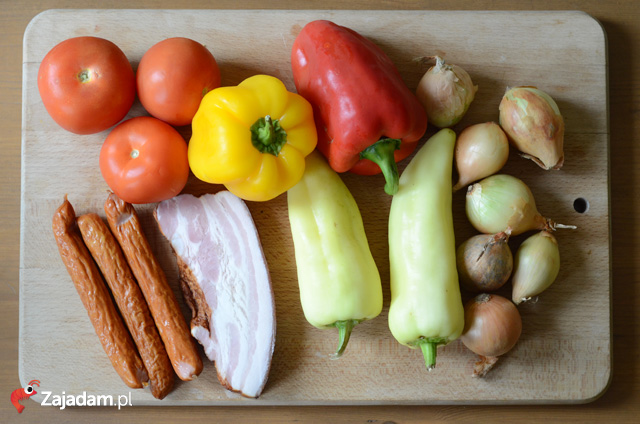 This recipe is for 3-4 people
Fresh bell peppers – 4 fairly big bell peppers in various colours
Tomatoes – 3 or 4 bigger ones
Onions – 2 big ones or a few smaller ones
Fatback or some fat bacon that you'll use to prepare cracklings
Lard (you can replace it with vegetable fat, e.g. canola oil) which you'll use to fry the onions
Sausages – thin ones are the best
Sweet paprika
Salt and pepper, to taste
Preparation
I dice the bacon (or, eventually, the fatback) and fry it in a skillet over medium heat in order to render as much fat as possible before cracklings turn completely brown.

I put browned cracklings into a bowl.

I add two spoons of lard (or canola oil) to the fat which is left in the skillet. Next, I throw in the onion which I chopped beforehand.

I cook and stir the onion until soft.

The next steps are to season the fried onion with a teaspoon of sweet paprika and then stir everything again.

Having done all of the above, I add sliced bell peppers. Of course, before I do this, I clean the vegetables of its stems and seed clusters.

I put the heat up a little bit and let the veggies simmer for 10 minutes.

Next, I add peeled tomatoes which are cut into four pieces and cook everything slowly for another 5 minutes.

Now it's finally time to add some meat. I add the cracklings prepared earlier and sliced sausages. I cook my letcho over higher heat for about 10 minutes until the bell pepper gets soft but not overdone. I don't like it when my food looks like mush for toddlers ;).

I serve my letcho just as it is or I add some white bread on the side.
Lard?
Well, if you are an avid reader of my blog, you've probably noticed that I add lard to my dishes extremely rarely. I definitely prefer using high quality butter and vegetable fat, including olive oil and canola oil. Yet, this time I've tried to remain as close to the original recipe as possible and I have to admit that the lard really does influence letcho's flavour. When I prepare letcho on every day basis, I usually use vegetable fat, though.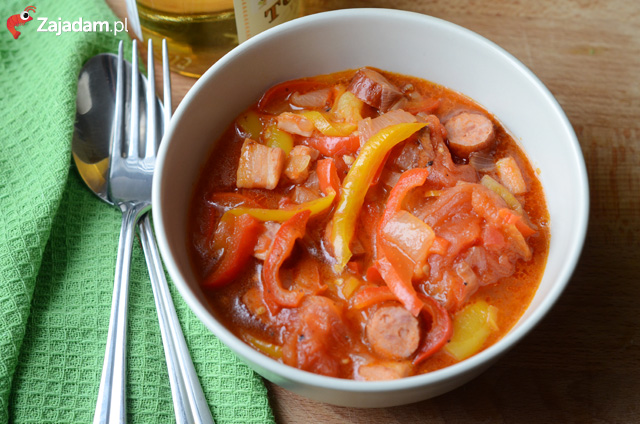 Skomentuj