Letcho with courgettes and sausages
pełna wersja przepisu z komentarzami dostępna pod adresem:
http://www.zajadam.pl/en/letcho-with-courgettes-and-sausages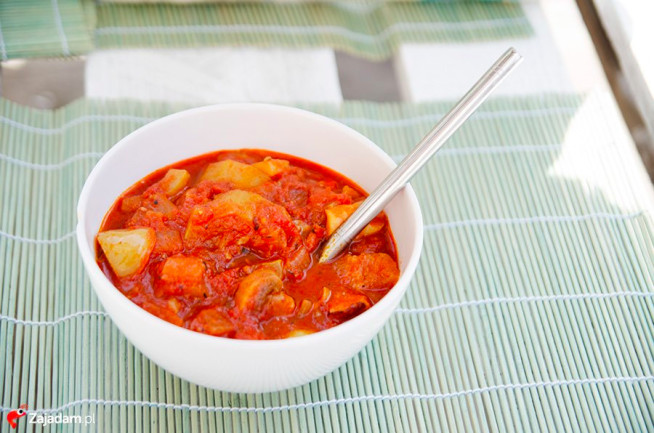 Letcho is a basic one-pot dish. Hungarians enjoy their letcho just as we, Poles, enjoy our bigos (meat and sauerkraut stew) :) I've eaten letcho since my early childhood and today I still love it. The aroma of this dish makes you go crazy, its colours are very pleasant to the eye and just a pure thought of its taste makes your mouth water. Letcho is a good idea not only for a filling one course dinner meal but it can also be served in smaller portions as late breakfast, substantial supper or even as one of party snacks.
Letcho recipe is banal to follow but to prepare a truly perfect dish, you need to know one little secret.
Ingredients
I'm going to present you with a list of basic ingredients of letcho. If it comes to the number of the ingredients and its amounts, letcho is similar to bigos in preparation of which the leading role goes to cabbage and all the rest is left to the cook's creativity and taste. For example, once I added to my letcho a few celery stalks, a carrot and some leek. The original letcho recipe doesn't include courgette or cucurbit which in Poland is very often added to letcho. I always prepare letcho with courgette – that's how I like it and that's why I make it this way. If you want to serve letcho as a side dish to, e.g. chops, don't add any sausages.
1 quite big courgette
2 – 3 medium sized bell peppers of various colours
2 onions
2 cans of tomatoes (you can also use about 6 – 8 fresh tomatoes)
2 medium sized sausages
a piece of fatback or bacon (about 10 decagrams)
1 spoon of lard (those of you who count calories can use vegetable oil)
salt, pepper, hot and sweet paprika, herbs to your liking
Preparation
Here comes the time for me to unravel my little secret :). As you can clearly see in the picture, my letcho doesn't look like some ugly mush which you can often encounter in other recipes available online. I believe that various dishes should be visually appealing. They also should be full of flavour and have appropriate texture. That's why I try to make courgette, bell peppers and other veggies crispy and soft at the same time. I cut all of the ingredients into fairly big pieces and later put them in the pot at perfect timing. That's the reason for my letcho's vegetables to be "just right".
So, let's get down to work:
I heat up one spoon of lard or oil in a big pot which I later use to fry the sliced onions.

When the onion is fried slightly, I add chopped bacon and sliced sausages.

After about two minutes I throw bell peppers, sliced into few centimetre pieces, into the pot.

I fry all of the ingredients over quite high temperature, constantly stirring the dish. If something starts burning at the bottom of the pot, don't even worry about it. It will take only a moment for tomato and other veggie juices to turn this sizzling thing into the real letcho. What has burnt at the bottom will only give your dish some good extra flavour.

Next, I add two cans of tomatoes, sweet and hot paprika and a little bit of herbs of Provence.

When letcho starts to boil, I add the courgette which is diced into about one centimetre mini squares. I cover the pot with its lid and let my dish simmer over low heat for 25 – 30 minutes until the courgette softens.
While cooking, you must remember about the right texture of this dish. Letcho is not a soup – it's a variety of vegetables in sauce. Don't get angry if not all of your greens are cover by the sauce. Letcho tastes best with rice or a slice of bread.
Skomentuj