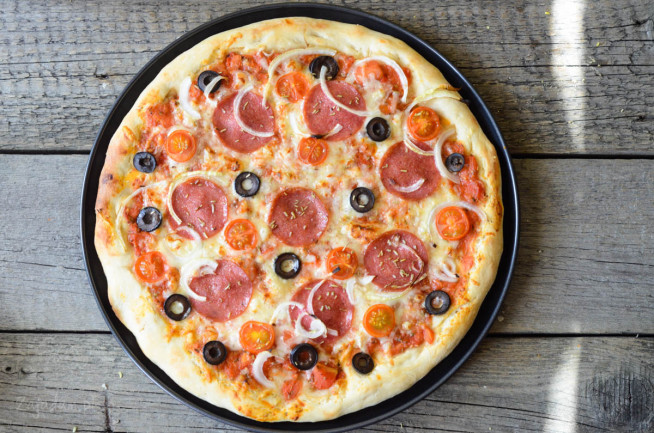 I have a huge crave for a pizza once in a while… It's not something to be proud of (just check out the calories, for instance), but world without a good pizza would be a far less pleasant place, wouldn't it? ;-) Yesterday, I indulged myself with home-made Napoli spaghetti with fresh tomato sauce. Some of the leftovers ended up in my fridge giving me, shortly speaking, a perfect pretext for preparing a home-made pizza ;).
I've looked through various recipes on the Internet and in the end I've created my own perfect mix. My aim? To create tasty, not too wet and not too thick dough. The ingredients given here are for a round pizza of 30 cm in diameter. This recipe turned out to be really, really good.
Ingredients
1.5 glass of wheat flour
0.5 glass of warm water
2 spoons of vegetable oil
3 up to 4 grams of active dry yeast, but you can also use fresh yeast – fresh to dry yeast calculator
0.5 teaspoon of salt
0.5 teaspoon of sugar
Herbes de Provence (it's optional; you can use various herbs in order to add some flavour and colour to you dough, but it's not necessary at all)
Let the fun begin! – Pizza dough preparation
Mix flour and yeast in a big bowl.

Now it's time to add oil, sugar and salt and mix it all again.

Slowly add water and stir everything with a spoon. Then, knead the dough until it's not sticky anymore (if the dough is still quite sticky, add more flour and continue the kneading).

The dough needs to rise a little so you must put it in a bowl and leave it in a warm place for about 20 – 30 minutes. Don't forget to cover the bowl with a piece of clean cloth.

While the dough is slowly rising, prepare your toppings.

Punch the ready dough a little so it forms a thick pizza pie. Then, stretch it in order to form a nice round shape. Now, you have to put it in a oil coated pizza pan and stretch the dough even more so it covers the pan completely (you can stretch the dough in any way you like, as long as it covers all the pan in the end).

Add tomato sauce and your favourite toppings (e.g. salami, olives, sliced onion).

Put such prepared pizza to an oven preheated to 220°C.

Each one of you should know your own oven well and you should decide on the time of baking. I recommend 15 up to 25 min. If you want to make sure that your pizza is ready, you have to take a look under it. If the underside is nice and brown, your pizza can be served.
Those of you who are more pro at pizza preparation can put your pizzas in the bottom drawer of the oven and bake it at a maximum temperature. Thanks to this the pizza will be ready in about 7 – 8 min.
You should also take a look at this video which shows how to prepare pizza dough:
I've always thought that preparing pizza dough is difficult, takes a lot of time and causes tremendous mess in kitchen. The recipe given above proves that it's just the opposite :-). The only ingredient that might not be normally in your kitchen is the yeast. Others are bound to be found in every pantry.  To encourage you even more, I must admit that it took me only 5 minutes to prepare the dough and the only equipment that ended up dirty was a big bowl which I used to knead the dough.